Study: Could lowering levels of PFAS in blood reduce risks of cancer, cardiovascular disease?
Arizona researchers will work with firefighters as they build on prior findings and possible prevention opportunities
---
By Leila Merrill
FireRescue1
TUCSON, Ariz. — Researchers plan to test the effectiveness of blood or plasma donations in lowering levels of cancer-causing per- and polyfluoroalkyl substances, aka PFAS – and whether lower levels of PFAS lower the risk of cancer or of cardiovascular disease.
Researchers with the University of Arizona Health Sciences and Arizona State University, in collaboration with firefighter research partners from fire departments throughout the state, are able to conduct the study thanks to a $4 million Regents' Research Grant from the Arizona Board of Regents.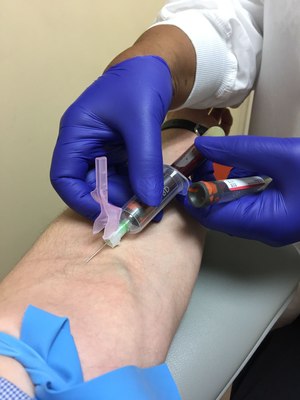 The study follows the International Agency for Research on Cancer's reclassification of the firefighting occupation to a Group 1 carcinogenic profession – a change from previously labeling the career "potentially" carcinogenic.
The Arizona study will follow up on findings from Australia, which also were announced this year. The clinical trial involved 285 Fire Rescue Victoria staff members and contractors with elevated levels of perfluorooctane sulfonate, a commonly detected type of PFAS. The firefighters who donated blood showed a 10% decrease in PFAS, and those who donated plasma had a 30% decrease.
The Arizona study also will build on research by Dr. Jeff Burgess that showed changes in veteran firefighters' DNA compared with new firefighters.
"We'll be using epigenetic clocks, which use DNA in blood to measure how biologically old a person's cells are," said Burgess in a news release. His prior research also showed that PFAS levels influence biological age. "If your cells are older than your chronological age, that puts you at risk of cancer, cardiovascular disease, mortality from any cause, and a number of other things like neurodegenerative diseases. We want to see if lowering PFAS levels using blood or plasma donation also reduces the biological age of the cells, which would be a reflection of a lower level of risk for these disease outcomes."
Burgess has been a public health professor with the University of Arizona Mel and Enid Zukerman College of Public Health and is now the director of the new Center for Firefighter Health Collaborative Research at the college, where the research will be done.
In addition to PFAS, the firefighter study will also test evidence-based interventions to reduce cancer and cardiovascular risk, such as exercise, intermittent fasting or dietary supplements.