Over 1,000 evacuated as FFs contain Arizona brush fire
The Diamond fire in Scottsdale grew quickly and threatened approximately 100 homes
---
Associated Press
SCOTTSDALE, Ariz. — More than 1,100 people remain evacuated from their homes Wednesday as Arizona fire officials determine if a containment line will hold up in windy conditions.
Crews successfully dug a containment line overnight around the brush fire in northern Scottsdale, a city just east of Phoenix, that has burned 3.9 square miles (10 square kilometers) and threatened about 100 homes.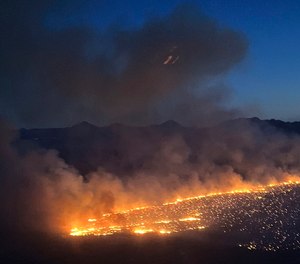 Scottsdale officials said 1,145 people remain evacuated.
Meanwhile, on Wednesday, Arizona officials applied for a federal grant for funding to aid the battle against the Diamond fire. The Federal Emergency Management Agency provides funding of up to 75% of the eligible costs of fighting a fire.
Arizona Department of Forestry and Fire Management spokesperson Tiffany Davila said the cause of the fire is under investigation.
The blaze broke out around 5:15 p.m. Tuesday and quickly grew — fueled by grass and brush.
"We had a very successful overnight. We have a line around the entire fire and people are starting to do mop-up," Davila said at a news conference. "But we may still see flare-ups."
Davila said the fire is considered "zero percent contained" until the containment line holds "and will in the wind."
"People might not see smoke right now, but that doesn't mean the fire is out," she said.
Davila said one secondary structure has been destroyed by the fire, but no injuries have been reported.
Carlos Aguirre lives in a new community in north Scottsdale and said his wife called saying that their community was being evacuated.
"She got out and didn't take the dog so we're a little nervous," Aguirre told Phoenix TV station KTVK.
Brendan Birdoes, who's building a home in the area, said a friend notified him of the fire and the evacuations.
"Our friend told us this was happening," Birdoes said. "He was out here mountain biking and so we came out to see what was going on."
Scottsdale Fire Capt. David Folio said the fire began in Scottsdale but later moved into county and state lands to the east.
The fire is southwest of the Rio Verde Foothills community where horse ranches mix with expensive homes, some still under construction. A mountain regional park and a conservation center that rescues and rehabilitates wildlife are also nearby.
The Scottsdale fire comes as drifting smoke from wildfires across Canada is creating curtains of haze and raising air quality concerns this week throughout the Great Lakes region and in parts of the central and eastern United States.