1 N.Y. firefighter has expressed interest in city's $25K retirement incentive offer
The offer to Ogdensburg firefighters was first set at $20K but was upped to $25K on Christmas Eve as an 'offering of good faith and reconciliation' following a month-long debate about staffing
---
Sydney Schaefer
Watertown Daily Times, N.Y.
OGDENSBURG, N.Y. — One city firefighter has expressed "desire" to accept the city's $25,000 retirement incentive offer, fire union President Jason Bouchard said in an email to City Manager Stephen P. Jellie on Wednesday morning.
Mr. Bouchard, of the Ogdensburg Professional Firefighters, Local 1799, said the union member has reached out to the New York State and Local Retirement System and is "prepared to go."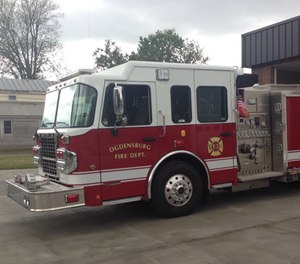 The retirement incentive offer for city firefighters was originally set at $20,000 by Mr. Jellie, but was upped to $25,000 on Christmas Eve as an "offering of good faith and reconciliation." Union members have until Thursday — the end of the calendar year — to accept the offer, which is a total of seven days.
"You expedited the original offer, for what reason?" Mr. Bouchard asked in his email to Mr. Jellie. "If the city is truly trying to work with our eligible members, to prevent layoffs, why give merely seven days? This is not enough time for valued employees to make a decision that will alter the course of their lives going forward."
The city and fire union have been at odds for more than a month after the city proposed eliminating 10 firefighter positions from the city fire department in its 2021 budget. That number has been reduced to seven positions in the budget which was passed Dec. 9.
On Dec. 18, the union filed suit against the city in order to stop city officials from reducing the size of the fire department's staff.
Right now, the city has a total of 27 firefighters, but factoring in the seven job cuts spelled out in the 2021 budget, 20 firefighters would remain, dipping below the 24-person minimum pursuant to the city and union's minimum staffing agreement.
With this union member ready to take the retirement offer, the city will still have to cut five firefighters from the department in accordance with the 2021 budget. The sixth firefighter is out on long-term leave.
"Local 1799 is hopeful that the city will be good on its offer," Mr. Bouchard said.
As an Amazon Associate I earn from qualifying purchases.
___
(c)2020 Watertown Daily Times (Watertown, N.Y.)
McClatchy-Tribune News Service