Fire department union threatens legal action over battalion chief job
Union president Daniel Daugherty said he plans to file an improper labor practice against the city after they suggested abolishing a battalion chief position
---
By Craig Fox
Watertown Daily Times
WATERTOWN, N.Y.  — The city and the firefighters' union may be headed for more legal action, this time over abolishing the battalion chief's position made vacant by the recent death of David M. Lachenauer.
City Manager Sharon A. Addison is recommending cutting the number of department battalion chiefs from five to four and reassigning Mr. Lachenauer's responsibilities as the department's municipal training officer.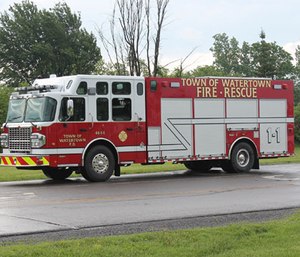 The matter came up during a contentious discussion during Monday night's City Council meeting.
Under her recommendation, four battalion chiefs would remain working on the line, saving the city $25,000 a year in salary costs, Ms. Addison said.
On Friday, Fire Chief Dale C. Herman assigned Deputy Chief Russell J. Randall as the new training officer, announcing the move in a one-sentence memo to the department staff.
But Daniel Daugherty, president of the Watertown Professional Fire Fighters Association Local 191, said he plans to file an improper labor practice over the restructuring, saying the action would cause a shift of job responsibilities to a nonunion position.
"They can't take something away from the union just because it may fit in any agenda they may have," said Mr. Daugherty.
Explaining that she would use a captain for the training officer, Ms. Addison said she and Chief Herman had discussed for years about having four battalion chiefs but the matter then presented itself again after she recently learned that Mr. Lachenauer was officially retiring because of his illness. He died on March 23.
During Monday night's discussion, Councilwoman Lisa A. Ruggiero acknowledged she talked to Mr. Daugherty about it, prompting her to wonder if it could lead to more litigation between the city and the union.
City Attorney Robert J. Slye quickly interrupted the discussion, contending it was "inappropriate" for council members to discuss the matter in public because it relates to contract negotiations.
He also said it was "inappropriate" for Councilwoman Ruggiero to talk about it with the union president, since the city has a negotiating team dealing with the 3½-year contract dispute with the bargaining unit.
"It's just not normal for any union official to go directly to a council member about anything," Ms. Addison said.
In explaining what happened, Councilwoman Ruggiero said asked Mr. Daugherty a question regarding the battalion chief's position while they were having a conversation that did not involve the fire department.
She also said that the union president threatened legal action if a captain became the training officer.
Costing the city about $500,000 in lawyer fees, the legal wrangling has already led to the two sides facing off before the state's highest court and over numerous filings with the state's Public Employees Relations Board.
Deputy Chief Randall told the council that he would do the best he could to take on the training duties and complete his job as deputy chief.
"I'll do my best to oversee training but we just put a captain in the spot that had a battalion chief overseeing that," he said. "The logic behind it escapes me."
Copyright 2018 Watertown Daily Times