Mass. FD looks to bring back retired firefighters to work detail assignments
As "special firefighters," Quincy retirees would be exempt from laws pertaining to pensions and civil service appointment procedures
---
By Lance Reynolds
Boston Herald
QUINCY, Mass. — Quincy officials are looking for state lawmakers to approve a request that would allow retired firefighters to come back on board for support duties.
The Quincy City Council supports giving the fire chief the power to appoint retirees as "special firefighters" who'd help cover detail assignments. A home rule petition the council filed this week requires approval from the state Legislature for such positions to be created.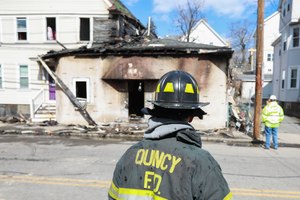 An increased workload within the fire department has sparked the need for the special firefighters to man detail assignments, particularly at construction sites, said Tom Bowes,  president of the Quincy Firefighters Association Local 792.
Developers are required to get a fire watch detail when welders and pipefitters are performing work inside a building, and the fire department sometimes has a hard time making sure someone is at the site, Bowes told the Herald on Wednesday.
He estimated that if the home rule petition passes, there'd be about 10 to 15 instances a year, tops, the special firefighters would be needed. Fire engines are not needed at details, whether they be at public events or construction sites.
"We would rather see a professional firefighter doing these fire watch details than seeing them go unfilled or be performed by someone not trained to the level we are," Bowes said. "It's about safety and having a trained professional on site while the work is being performed."
Retirees who are past the state cutoff age of 65 would be allowed to come back to the department. They'd also be exempt from laws pertaining to pensions and civil service appointment procedures, according to a city document.
The retired firefighters would need to pass a medical exam to determine whether they'd be capable of performing the "essential duties of a special firefighter," the document states. The exam would be at their cost.
Chris Walker, the mayor's chief of staff, told the City Council on Monday that private details have been on the rise over the past few years, and a firefighter presence is required in such instances.
"The more there are, the harder they become to fill," Walker said. "People are busy, they don't want to fill them."
The home rule petition seeks to give the fire department the same capability as the police department, which uses retired officers at details.
City Councilor Nina Liang said it's essential for the city not to overstretch its full-time professional firefighters, especially as Quincy's population has grown by nearly 10,000 over the past decade to over 101,000.
"The folks that are retired already know this city," Liang said. "They know the process, they know how we work. Who better than them versus going out to other cities and towns when we need help?"
©2023 MediaNews Group, Inc.
Visit at bostonherald.com.
Distributed by Tribune Content Agency, LLC.
McClatchy-Tribune News Service