Staff shortfall rises to 67% at N.M. emergency dispatch center
Response times are longer, but interim director Roberto Lujan said calls are being answered in a timely manner and that he can fill the open positions
---
Nathan Lederman
The Santa Fe New Mexican
SANTA FE, N.M. — Bernard "Buster" Brown inherited a severe staffing shortage at the local 911 dispatch center when he stepped into its top job in November.
The New York native, with more than 25 years of experience in emergency dispatch centers, vowed to address the 49 percent vacancy rate and said he hoped to make the Santa Fe Regional Emergency Communications Center a model for the state.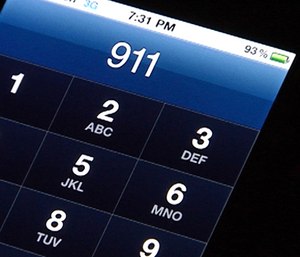 But by the time Brown quietly stepped down as the center's director in May, the rate of critical jobs that remained unfilled had grown to nearly 63 percent.
According to data provided by Santa Fe County, that number has since risen to 67 percent and includes key positions — including 10 out of the center's 11 Level 3 emergency communications specialists.
The situation at the center — and the effect the staffing shortage is having on timely responses to 911 calls — concerns key law enforcement officials and members of the public who question what effect it will have on those who need emergency medical personnel, police aid or firefighters.
Data provided by Santa Fe police Chief Paul Joye shows his department's median response times to calls in May had increased by four minutes compared to those in November — leaving a caller in need of emergency assistance to wait more than 27 minutes for an officer to arrive.
Santa Fe County Sheriff Adan Mendoza, who serves on the Regional Emergency Communications Center board, called the staffing shortage a "safety issue" that could affect deputies as well as the public.
"We need people to staff the radios to make sure that our deputies are being heard, that they're getting the information that they need in order to properly handle the calls," he said. "When there [are] staffing issues ... it is a concern."
"It's a big concern," agreed Santa Fe fire Chief Brian Moya. "Without them, we wouldn't even get a dispatch to call. ... It's critical across all spectrums."
---

Career paths
Turnover: We have measured it, but can we manage it?
The AAA/Newton 360 turnover survey measures the cost of replacing EMTs and paramedics
---
Barbara Harrelson, a semi-retired writer and researcher who has lived in Santa Fe for nearly three decades, said she feels less safe in the city due to the dispatch center's shortage.
"I just have a feeling that we could have a very sad and tragic awakening about this situation," she said.
The center, jointly administered by the city and county, is now headed by interim director Roberto Lujan, who downplayed the severity of the situation. He insisted calls are being answered in a timely manner and said he doesn't believe the staffing problem has reached a crisis level.
Lujan, who had served as the training coordinator and accreditation manager for Los Alamos County's dispatch center before becoming a manager at the Santa Fe center in late March, took over earlier this month after Brown's departure. He said the center, which has 48 positions, is being staffed by 16 employees, a new trainee and five temporary workers.
He said he's certain he can fill the vacant jobs.
"We have absolutely been adequately responding to calls and answering the calls in a timely manner," said Lujan, who has applied for the permanent director's position. "I wouldn't say that we're in a crisis, but it is very crucial that we do find either lateral employees or new trainees."
Former workers interviewed in November cited long work hours, increased stress, a hostile work environment and an unfair pay structure at the center. Former director Vanessa Marquez, who retired in late October, declined requests for an interview about the center's problems.
One woman who had worked at the center for five years before stepping down in August as a Level 3 emergency communications specialist said in an interview Saturday staffing shortages were always a struggle but had worsened under Marquez's tenure.
"It was COVID and her," said the woman, who asked that her name not be published. "But I don't think anybody left because of COVID because everybody who left went [to] other jobs as dispatchers in other agencies."
She said current employees at the dispatch center have told her morale improved significantly under Brown and Lujan's management.
But the urgent need for workers has persisted, a problem she said has a serious effect on the community and is due in part to what she sees as the county's lengthy and inefficient hiring process for 911 operators.
"These can be potentially life-threatening emergencies, and 911 dispatchers have the capabilities to help intervene with life-or-death situations," she said. "The community is the one who [is] going to be most affected by these shortages."
The dispatch center board is conducting a nationwide search for the next director. "We're looking for the best qualified [candidate], somebody that can work with and solve some of the issues that the RECC is encountering right now," Mendoza said.
Lujan said the center is using social media to recruit 911 operators and recently created a new flyer with a bar code directing potential recruits straight to the application site.
"I am confident that I can help rectify the vacancies," he said. "I look forward to serving the community."
In the meantime, Lujan said higher-level administrators are "supplementing the floor staff" by working as dispatchers during certain hours, and five temporary dispatchers have been hired by Santa Fe County from driving assistance firm ITS Connect.
Moya noted dispatcher jobs are not easy to fill and require extensive training.
"It's not like you can say, 'Hey, so-and-so, you can get off the street and go be a dispatcher,' " he said. "It takes a lot of energy. It takes a lot of money to put these people through it, and then some people are just not cut out."
Officials thought they may have been able to solve some of the center's problems when Brown was hired late last year. But controversy had marked his previous stop.
According to a report in the Atlanta Journal-Constitution, Brown had resigned as director of the Fayette County 911 Center in Georgia, in 2018 amid allegations of misconduct and fostering a hostile work environment. He then returned to work in the private sector.
Katherine Miller, the former Santa Fe County manager who was a member of the local 911 center board and involved in the decision to hire Brown, said she had researched the claims against him in Georgia but declined to comment on whether she determined any were substantiated.
Brown said at the time he appreciated the opportunity to return to 911 work and praised the center's staff for its dedication and passion.
He could not be reached in May for comment when the county announced his decision to step down.
County Deputy Manager Elias Bernardino said in an interview last month he had been working with Brown to address the staffing concerns.
"Across the nation, all 911 centers are having the same concerns. And one of the things we have been doing is doing the same strategy and expecting different results, and it is not really working," Bernardino said.
Data provided by police chief Joye shows the overburdened 911 center staffers who remain on the job have been answering a rising number of police calls in the city. In November, residents made 5,132 calls to the center requesting city police assistance.
In May, the number was 6,040, a nearly 18 percent jump.
During the same period, median response times to top-priority calls, such as active shooters and assaults in progress, also increased. The time between a call and a police dispatch was 16 minutes, 13 seconds in November.
In May, according to the data, it took 20 minutes, 17 seconds for operators to dispatch police.
However, Joye said a variety of factors contribute to slower response times.
"I think everyone is aware of our staffing shortages as well, which certainly would impact that, too," he said, referring the police department's persistent struggle to fill vacancies. "Does [dispatch center vacancies] impact that? Maybe. But would it be the only thing? Certainly not."
___
(c)2022 The Santa Fe New Mexican
McClatchy-Tribune News Service