'Terrible': Retiring Ga. chief describes low staffing, mandatory double shifts
Glynn County needs at least 37 firefighters and EMS providers per shift, said Chief R.K. Jordan. "With 31 people per shift right now, that's six overtime shifts a day"
---
Larry Hobbs
The Brunswick News
GLYNN COUNTY, Ga. — Any firefighter who complains to outgoing Glynn County Fire Chief R.K. Jordan about mandatory overtime is preaching to the proverbial choir.
"Start asking questions about mandatory firefighter overtime," read an anonymous email received by The News this weekend.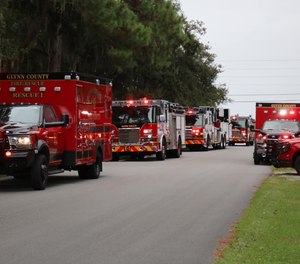 So, we did. Jordan's last day is Wednesday, ending six years as the county fire chief here and 47 years total in a career that included supervisory stints in Fort Myers, Fla., and Fort Myers Beach, Fa.
Jordan said a shortage of county firefighters and paramedics has prompted department heads to enforce mandatory double shifts on several occasions this year.
"It's been terrible," Jordan said.
When the job description includes saving lives and protecting the health and welfare of people and their property, there is no skimping on the bottom line, he said. As of Monday, the department was six first responders short of the minimum of 37 firefighters, EMS workers and paramedics needed to staff a 24-hour shift at the eight fire stations throughout the county.
"It takes 37 people minimum per shift. We have to have that," Jordan said. "With 31 people per shift right now, that's six overtime shifts a day that have to be filled. Most are filled voluntarily. But we've also been 'mandatorying' in people every day."
Firefighters work 24 hours straight at a fire station, then have 48 hours off. Due to a number of reasons, some have either volunteered to work 48 hours straight or have been ordered to as outlined in the job description, Jordan said.
"Firefighters are burned out working so much overtime," the anonymous writer told The News. "Firefighters are working mandatory 48-hour shifts every few days on top of regular shift work."
Jordan does not fault firefighters for their frustration.
"We have been shorthanded for the past year, and it has absolutely been a big problem," he said.
The department needs 122 first responders to be fully staffed. With four people out with injuries and a couple of other military reservists called up for duty, the department is down to just under 100 first responders, he said.
On a bright note, three firefighters fresh from training started Monday, he said.
The inevitable unexpected absences for illness also put a strain on staffing, Jordan said. Absences for illness plagued the department in 2021 during a spike in COVID-19 cases within the department. But the virus has not played a large role in absences this year, Jordan said.
"But that's when we really have trouble when someone calls in sick," he said. "There's really no forewarning, so then we're having to hold them over (from a regular shift to a double shift). We call that mandatory overtime."
A new firefighter/paramedic with the department was ordered to work a 48-hour shift twice last week. Jordan understands the frustration.
"He did not do it voluntarily," Jordan said. "He commented that if this doesn't end, he's going to find something else. No one has stated that forced overtime was a reason for leaving, but we know they're getting tired of it."
Assistant Fire Chief Vinnie DiCristofalo will serve as interim fire chief when Jordan steps down this week.
The department already is making recruitment a priority. It has placed a billboard in the county that calls for new hires. County fire department recruiters also have been visiting area military bases, seeking prospects among outgoing service members.
This is not a local problem, Jordan said. Finding and maintaining a healthy fire-rescue force is a struggle just about everywhere.
"We are working on it," Jordan said. "But I got to tell you, it's tough. And this is nationwide. I've spoken with chiefs throughout the nation at seminars and elsewhere. Everywhere it's the same."
___
(c)2022 The Brunswick News
McClatchy-Tribune News Service