'On the Boards': Torrey Pines Fire Station No. 52 – San Diego
U.C. San Diego provided the city a piece of land on campus where a station could improve response times to the university and the surrounding community
---
This station design feature spotlights a F.I.E.R.O. Fire Station Design Awards Program Honor Award winner in the "On the Boards" category for stations that have been designed but not yet approved for construction.
Honor Awards (Gold) go to those projects for which all six jurors agree the project exemplifies excellence in all aspects of planning and design, including site plan, floor plan(s), innovation and architectural image.
Project Name: Torrey Pines Fire Station No. 52 – quick facts
Fire Agency Name: San Diego Fire-Rescue
Project Location: La Jolla, San Diego County, California
Project Status: On the Boards
Anticipated Completion: Winter 2024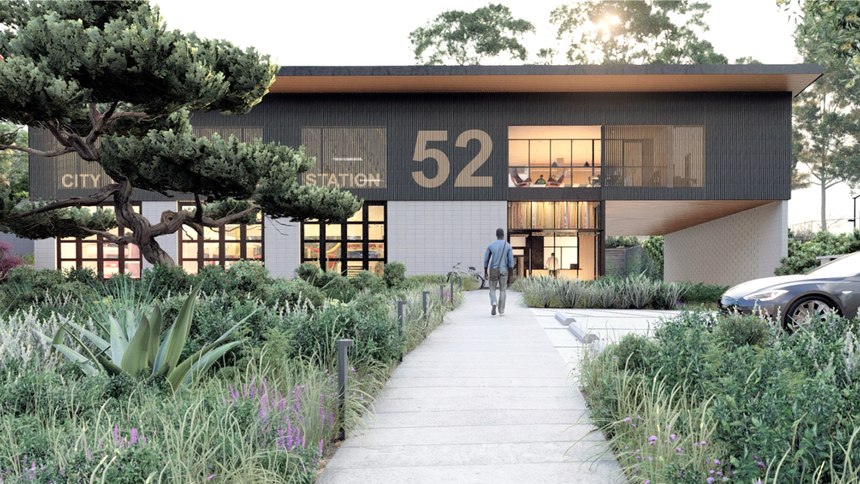 F.I.E.R.O. Honors Award Submission
Submitted by Miller Hull Partnership, LLP
The University of California San Diego (UCSD), concerned with the need to improve the poor emergency response times to the university and the surrounding expanding community, provided the city of San Diego the funding and a piece of land for a new station on its campus. The city of San Diego agreed to build and fund the operation of the station, including the firefighter salaries
When completed, the Torrey Pines Fire Station will improve emergency response to the surrounding community as well as the UCSD campus. The fire station will be energy-efficient and incorporate on-site renewable energy and target low-carbon-emissions construction and building operations consistent with the City of San Diego Climate Action Plan targets.
The Design-Bid Delivery (RFP) had to meet the city of San Diego's stated project requirements, the site layout, building design, and materials selections were organized around the following three goals: Simple Building Form, Firefighter Health & Response Time, and Authentic Community Connection & Fit.
F.I.E.R.O. assessment
This project intrigued the F.I.E.R.O. fire station design jurors with its clean, understated exterior design that contextually fit in well with the seaside community, and laid back lifestyle of the area. Planned layout for the fire station reduces the overall height and scale of the building form blending well with the residential/college neighborhood on the otherwise small, ill-shaped, sloping site. The design doesn't scream firehouse, but that really seems to be the intent of the design team and community, and should be a good fit into this neighborhood.  
The Floor plan is laid out with wide aisles and promotes quick and efficient travel to apparatus to assist in the effort to reduce response times. 
Firefighter health and wellbeing is a core part of the construction with a well thought out return-from-incident plan to control cross-contamination and decontamination of equipment, plus an open and well-lit floor plan.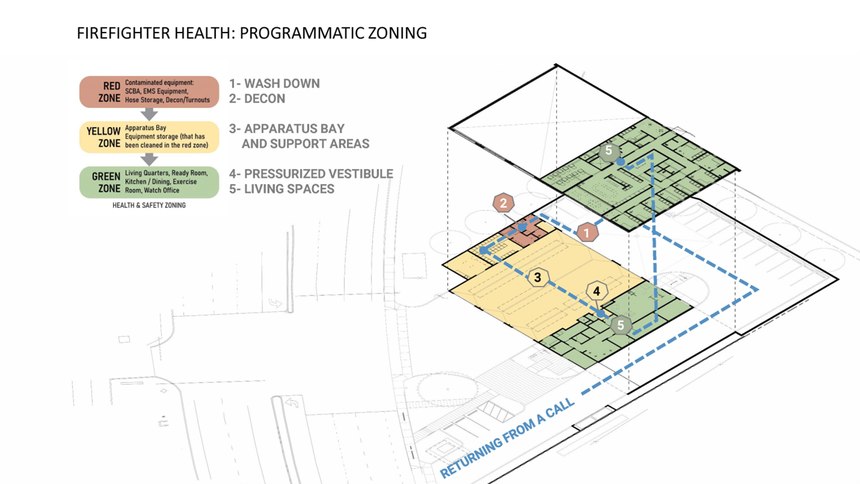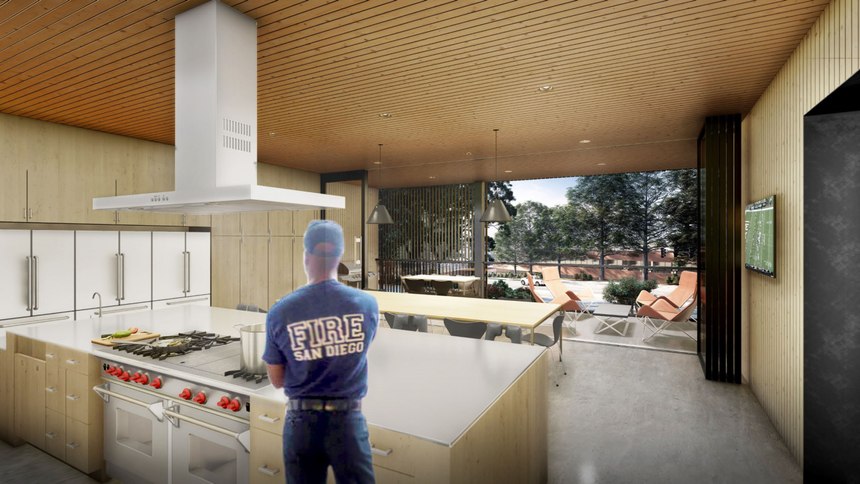 Additional Details
Architect of Record: Miller Hull Partnership, LLP
Contractor: Level 10 Construction
Site Size: 34,500 square feet
Station Size: 12,300 square feet
Budget for Land: Land provided by U.C. San Diego
Budget for Building and Site Improvements: $14.1 million ($16.5 million total project cost)
Cost per Square Foot: $1,341
Estimated Operating Costs: $1.9 million per year