3 ways firefighters can use ChatGPT on the job
From social posts, to ingredient-based recipes and training content, learn how this in-demand chatbot can be incorporated into day-to-day public safety tasks
---
Here's an experiment. Read the following tweets:  
"Fire Prevention Week is here! Remember to check your smoke alarms and have a fire escape plan in place to keep your family safe. #FirePreventionWeek"
"Don't let a small fire turn into a big disaster. Keep flammable items away from heat sources and never leave cooking food unattended. #FireSafetyTips"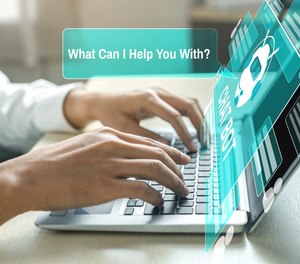 "Teach your kids about fire safety and make sure they know what to do in case of an emergency. #FirePreventionWeek #FireSafetyForKids"
All three read like social posts you might see during the fire service's annual Fire Prevention Week in October, correct? The content is not too technical, and each post conveys useful information that can be shared by fire departments with local communities.
Though the sample tweets read like they were written by a living, breathing human, all three – including the hashtags – were actually generated by ChatGPT, an artificial intelligence chatbot built by OpenAI.
Computer-generated content is not new; however, the difference between previous content generators and ChatGPT is the conversational tone of the generated product.
"What's unique about this is that it presents information in a way that a human would," Gene Munster, a managing partner for Loup Ventures, a technology research and investment firm, in an interview with CBS News Minnesota. "It essentially has the ability to think."
With the ability to scan the internet, ChatGPT absorbs the information to answer specific user requests, like, "Write an eight-line poem about fire safety." Here's what it came up with:
"Fire burns bright, a fierce and deadly force,
A danger to all, it takes its course.
Be aware, be careful, keep it at bay,
For fire safety is a must each day.
Smoke alarms, fire extinguishers too,
Are tools to keep you and your loved ones safe, too.
In case of fire, do not delay,
Evacuate quickly, call 911 straight away."
While it won't win any literary awards, it's still impressive for a chatbot. Used creatively, ChatGPT can even assist first responders in certain instances.
Learn how to get started with ChatGPT below and check out some of the ways your organization can utilize the program. Send an email to editor@firerescue1.com and let us know if your agency has found a unique way to utilize artificial intelligence.
How to get started with ChatGPT
Note: Beware of copycat programs that may ask you to subscribe to the service for a fee. The original ChatGPT is free to use and does not require a credit card to sign up.
Step 1: Visit OpenAI.
Step 2: Click on the pink button labeled "Try ChatGPT," which will open a new window.
Step 3: Click "Sign up" to set up your free account. Note: If you get a page that says the service is unavailable, continue refreshing the page until the sign-up button appears; it may take up to a few minutes, due to high demand.
Step 4: Verify your email.
Step 5: Answer a few basic questions.
Step 6: Start asking questions!
Still unsure of how to use ChatGPT? Check out this five minute explainer video for more details: 
How first responders can use ChatGPT on the job
While most tasks in public safety are hands-on and require specialty training and knowledge, there are some things that can be outsourced – at least in part – to ChatGPT, once you get the hang of using it and understand its limitations.
1. Social media – community risk reduction
We know community engagement is important, but sometimes it gets put on the backburner by necessity, whether due to understaffing, a lack of creativity, initiative or other reasons. ChatGPT can be used to generate social media content that can easily be pushed out to the community.
Here are some ways to ask ChatGPT for assistance with social media:
"Write a tweet about fire safety."
"Write a paragraph about smoke alarm safety."
"Write a social teaser about closing bedroom doors for fire safety."
While ChatGPT can generate content that sounds both conversational and authoritative, you should double check all content for accuracy prior to sharing it with fellow providers or community members, as some tweaks or clarifications may be needed. However, the chatbot should be able to deliver several quality content options for your organization to use on social media with minimal effort on responders' part.
2. Creating training/presentation materials
First responders can also use ChatGPT to create or jump-start the creation of training materials, such as slideshow copy, safety briefings and other time-consuming tasks that require content creation. 
Again, because ChatGPT is regurgitating the information scoured from the internet, any generated content should be checked for accuracy. However, the format and conversational tone can help provide a basis and cut down the time needed to create training materials.
Where this will come in handy the most is for instances that involve the public, such as fire safety demonstrations and presentations at public schools. ChatGPT can even help first responders break the ice with a safety-themed quip.
"Write a joke for kids about stop, drop, and roll."
Response: Why did the fire extinguisher go on a date with the smoke detector?
Because they were a perfect match, they both wanted to put out the fire together!
"Explain the use of 911 in understandable terms for a 5-year-old."
Response: "911 is a special phone number that we can call when we need help from the police, firefighters, or paramedics. Imagine you're at home and you see a fire, or someone is hurt and needs a doctor. You can't handle it by yourself, what do you do? you call 911. They will send people who are trained to help us in emergencies. Like superheroes who will come to make sure everything is safe and help anyone who might be hurt. If you ever need help and you can't find an adult, you can call 911 and they will come to help you."
3. Create recipes with available ingredients
When the fridge in the firehouse is down to a few random ingredients, ask ChatGPT for a recipe that uses those specific items and see what it can come up with.
As the chatbot, "What recipe can I make with ground beef and a can of pinto beans?"
Response: "One recipe you could make with ground beef and a can of pinto beans is a classic dish called 'Chili con Carne.' Here's a basic recipe:
Ingredients:
1 lb ground beef
1 can of pinto beans, drained and rinsed
1 onion, diced
2 cloves of garlic, minced
1 can of diced tomatoes
2 cups of beef broth
2 tablespoons of chili powder
1 teaspoon of cumin
Salt and pepper to taste
Instructions:
In a large pot or Dutch oven, brown the ground beef over medium-high heat. Drain any excess fat.
Add the onion and garlic to the pot and cook until softened, about 3-5 minutes.
Stir in the chili powder and cumin, and cook for 1 minute.
Add the diced tomatoes, beef broth, pinto beans, and bring the mixture to a simmer.
Season with salt and pepper to taste.
Let the chili simmer for about 20-25 minutes or until the beef is cooked through and the flavors have melded together.
Serve with your favorite toppings, such as sour cream, shredded cheese, or chopped green onions.
You could also make a simple taco with the beef and beans, or a burrito bowl with rice, veggies and toppings."
In the future
The technology driving ChatGPT is still in its infancy, but as the public continues to interact with artificial intelligence, it will adapt in ways that will hopefully be increasingly useful for the fire service – and humanity as a whole.