Fla. fire union votes 'no confidence' in mayor, asks for resignation
In a letter to Mayor Lauren Poe, Gainesville Professional Firefighters, IAFF Local 2157, said the city is "in complete disarray" over vaccine mandate
---
By Rachel Engel 
GAINESVILLE, Fla. — The local fire union sent a letter to the mayor after a vote of "no confidence," asking for his resignation.  
Gainesville Professional Firefighters, IAFF Local 2157, sent a letter to Mayor Lauren Poe requesting that he step down from his position due to conflicts with the governor and rising city tensions.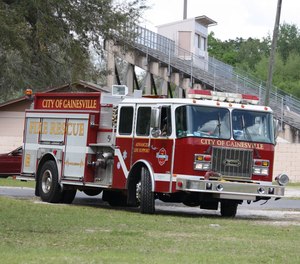 "As public servants of Gainesville, we have witnessed years of mismanagement under Mayor Poe's tenure," the letter said. "For far too long, we have focused only on the issues that directly affected the fire department, and we have remained silent on the other day-to-day issues. However, we can no longer stay silent while the Mayor threatens the safety and livelihoods of our members and other city employees." 
In the letter, union President Nick Gonzalez references several lawsuits pending against the city as evidence of mismanagement, and threats by Fla. Gov. Ron DeSantis to fine the local government "that could easily exceed 10 million dollars," due to the upcoming vaccine requirement for city workers. 
"If we lose a significant portion of our workforce, this place is not the same," Gonzalez said in an interview with WCJB. "My safety is less without someone next to me to fill that spot on the truck." 
The lack of coordination by the mayor with fire department officials over the vaccine mandate is the most frustrating part, he said.  
"We are a few days away from the start of progressive discipline," Gonzalez said. "The city has still not answered the questions we have. They have still not come to the table as they are required to by the state and U.S. Constitution. They have to negotiate these changes, these changes are mandatory subjects of collective bargaining and the city to this day has refused to negotiate that decision." 
In a statement, Poe responded to the allegations by Gonzalez and the union's letter: 
"My only reaction is that I was placed in office by voters of Gainesville and will continue to faithfully execute the duties of my office until my term has expired. I hold as my highest duty to protect the health and welfare of our entire community, especially our most vulnerable neighbors. This sacred duty has never, and will never, change."