'Understaffed. Overworked': Minn. firefighters picket over lack of contract
St. Paul firefighters held an informational picket after going over 200 days without a contract
---
By Mara H. Gottfried
Pioneer Press
ST. PAUL, Minn. — St. Paul firefighters and other Twin Cities union members marched on Snelling Avenue on Wednesday with signs saying "Firefighters, paramedics need your help," along with signs reading "Understaffed. Overworked," and "Without contract. Still responding."
Off-duty firefighters held an informational picket to bring attention to their labor contract being unsettled for more than 200 days. They say a review of professional firefighter wages in the state shows St. Paul firefighters rank 14th with a starting pay of $65,585.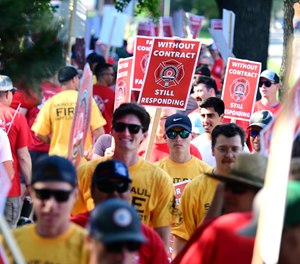 "We're the capital city, we're the busiest department, but we're not compensated like it," said Mike Smith, International Association of Fire Fighters Local 21 president. "This isn't about us, this is about public safety, providing staffing for the citizens in the city of St. Paul."
A recent open application period for St. Paul firefighters drew a low number of applicants, Smith said, and he said they can't compete against other departments that pay more.
The number of people applying to be St. Paul firefighters has been dropping through the years: There were 925 qualified applicants in 2018; 1,057 in 2014 and 2,361 in 2010, according to the department.
St. Paul firefighters continue working under their contract that expired Dec. 31. They're scheduled to go to arbitration over the contract at the end of August, Smith said.
"The mayor has asked Local 21 leadership to facilitate a meeting in order to engage with members directly," said Kamal Baker, Mayor Melvin Carter's spokesman, in a statement. "While this request has been declined over the past several months, the Carter administration remains proud of the investments we are making in the St. Paul Fire Department, and hopeful that our ongoing good-faith negotiations with Local 21 will soon culminate in a signed agreement."
Smith said they've asked Carter to meet with him and Local 21 elected officers, and he hasn't. He said Carter wanted to come to their union's membership meeting in June, but "he hasn't earned that chance to speak the members. Come meet with the elected officials first and then I'll give you the opportunity."
Local 21 has been urging people to email Carter and he's responded to more than 140 messages, Baker said. In his response, Carter wrote that since he took office in 2018, they've allocated an additional $14.9 million into the fire department's budget and expanded the department's capacity by adding 20 full-time equivalent employees to the ranks.
Smith said the additions haven't been sworn firefighters, but emergency medical technicians working on Basic Life Support ambulances and administration.
The Basic Life Support unit handles 9 percent of all St. Paul fire department calls for service, which "will offload thousands of calls from our firefighters and paramedics, allowing them to maintain a posture of readiness to respond to our most critical emergencies," Carter wrote in his response to emails.
©2023 MediaNews Group, Inc.
Visit at twincities.com.
Distributed by Tribune Content Agency, LLC.
McClatchy-Tribune News Service