Bank files mortgage foreclosure on closed Pa. VFD
Vernon Township's board of supervisors shut down the fire department because of a lack of financial responsibility
---
By Keith Gushard
The Meadville Tribune
MEADVILLE, Pa. — Marquette Savings Bank has filed a commercial mortgage foreclosure action against the now-closed Vernon Township Volunteer Fire Department for more than $350,000 in outstanding loan debt, interest and penalties.
The filing was made Thursday afternoon with the Crawford County Prothonotary's Office, which is the clerk for civil cases of Crawford County Court of Common Pleas.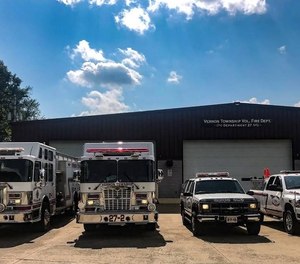 On Oct. 7, Vernon Township Volunteer Fire Department — Department 27 — was taken out of service by the township's board of supervisors due to a lack of financial responsibility by Vernon Township VFD.
In shutting down Vernon Township VFD, supervisors called Vernon Township VFD's financial state "alarming." Supervisors said they were unable to get confirmation of how the township's financial contributions had been spent.
Supervisors also cited Vernon Township VFD's "repeated lack of financial planning and oversight" over the years, as well as concerns over a lack of upkeep and certification of its emergency equipment.
Vernon Township VFD has an open-ended mortgage with Marquette Savings Bank of up to a maximum $490,000, according to court documents.
The mortgage, dated Oct. 29, 2010, is on Vernon Township VFD properties at 18208 Cussewago Road, its social club building and property; and 13227 Dunham Road, its fire truck station.
According to court documents, the mortgage is in default because Vernon Township VFD has failed to pay principal and interest for at least two months.
Vernon Township VFD owes a total of $352,903.32, according to court documents. The department owes $323,115.58 in principal on the mortgage; $8,150.06 in interest; $4,301.52 in fees; $1,180.38 in late charges and $16,155.78 in attorney fees.
Marquette also is seeking interest at 6.15 percent annually going forward plus reasonable attorney fees and the cost of the suit.
While Vernon Township VFD is defunct, the township still has fire protection.
Vernon Central Hose Co. — Department 23, the township's other volunteer fire department — is handling emergency service response for the entire township.
Vernon Central Hose Co. is an entirely separate entity with no connection to Vernon Township VFD other than providing mutual aid on emergency calls.
___
(c)2022 The Meadville Tribune (Meadville, Pa.)
Visit The Meadville Tribune (Meadville, Pa.) at meadvilletribune.com
Distributed by Tribune Content Agency, LLC.
McClatchy-Tribune News Service