Conn. FF seriously injured in accident at station
The Scotland Volunteer Fire Department firefighter was said to be in critical condition after the unspecified accident while performing duties
---
Traci Hastings
The Chronicle, Willimantic, Conn.
SCOTLAND, Conn. — A local volunteer firefighter was critically injured in an accident at the Scotland Volunteer Fire Department on Monday.
The accident at the fire station, located at 47 Brook Road, was not related to an emergency call.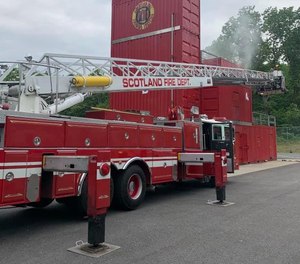 "A longtime and respected member of the Scotland Volunteer Fire Department was seriously injured while performing duties at the fire department headquarters," said Scotland Fire Chief Jason Beaumont in a statement released to the Chronicle Tuesday.
"The family of the injured firefighter has requested that the public respect their desire for privacy at this difficult time."
Beaumont's statement indicated the accident occurred at approximately 12: 30 p. m. Monday.
Beaumont said the victim was immediately transported to The William W. Backus Hospital in Norwich and, from there, was transferred to Hartford Hospital via Life Star.
Scotland fire officials did not identify the firefighter or release information about what exactly happened at the firehouse.
A post from the Scotland Volunteer Fire Department on its Facebook page acknowledging the accident stated the patient was in critical condition.
The post asked for privacy for the family as well as for positive thoughts.
"The accident was reported to the Connecticut State Police and (the) Occupational Safety and Health Administration, and their investigations have commenced," Beaumont said.
Beaumont said more information about the accident and about the patient's condition may be released "as circumstances and the family's interests" determine it to be necessary.
No further information was available.
———
©2020 The Chronicle (Willimantic, Conn.)
McClatchy-Tribune News Service