Ore. power company invests over $20M into high-tech, AI to prevent wildfires
Portland General Electric has set aside $15M alone for vegetation management and is replacing wooden poles in high-risk areas
---
By Savannah Eadens
oregonlive.com
PORTLAND, Ore. — Portland General Electric is investing more than $20 million in its wildfire mitigation and resiliency plan this year, Oregon's largest electricity company said Wednesday. This includes increasing inspections of utility poles, expanding what it considers "high-risk zones" and deploying more advanced technology – like high-def AI cameras – to detect wildfires across the region.
As energy companies across the country struggle to figure out how to respond to climate change, PGE is spending more money than ever to prevent its equipment from igniting a devastating wildfire, and, if it does, to stop a blaze as quickly as possible.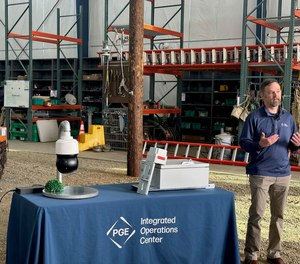 The potential liabilities for utilities have proven enormous in recent years.
In California, former executives of Pacific Gas & Electric – not to be confused with Portland General Electric – agreed to a $117 million settlement last fall for the utility's role in 2017-2018 fires, some of which were sparked by downed power lines. PG&E earlier agreed to a $13.5 billion settlement with fire victims, prompting the giant California utility to file for bankruptcy.
And PacifiCorp, Oregon's second-largest electric utility, may be forced to pay billions of dollars to wildfire victims in a class-action negligence lawsuit after accusations it was partially responsible for the catastrophic 2020 Labor Day wildfires that burned more than a million acres and claimed nine lives.
"Our wildfire-mitigation plan is really to protect people, property and the natural environment," said Kevin Putnam, PGE's senior director of utility operations. "As Oregonians, we should all plan and we should all be prepared."
PGE's plans, detailed in a 126-page report, map out the densely-forested eastern and western portion of the company's service area, from the Mount Hood corridor along Highway 26 to the Coast Range foothills and south toward Estacada. While the majority of the territory is in and around Portland, the company also manages utilities in a geographic area home to more than 2.2 million trees.
This year, PGE added two areas to its 10 previously established "High Fire Risk Zones" – the Sandy area and Silver Falls State Park.
The locations of high-risk zones are determined by factors such as how long it would likely take to detect a fire, road accessibility, proximity to fire stations and vegetation density – as well as the potential consequences of a fire caused by PGE equipment.
Nearly $15 million is earmarked specifically for vegetation management – trimming and removing trees that are dead or dying or jutting into overhead power lines.
PGE is also regularly replacing its power lines' wooden poles with ductile iron poles, particularly in the forested "high risk" areas, where there are 30,000 poles total, representatives said in a Wednesday press conference to demonstrate the company's wildfire technology. There are approximately 800 iron ductile poles across PGE's network, a spokesperson said.
Last year, the company piloted the installation of 26 panoramic AI-enhanced cameras, which automatically notify PGE and local public-safety agencies – as well as the Oregon Department of Forestry, the U.S. Forest Service and the Confederated Tribes of Grande Ronde – when they detect heat, smoke or fire. The project proved successful, with the cameras detecting multiple small fires in 2022, according to PGE's report.
This year, the utility is adding six more cameras to the high-risk zones, each covering about a 10-mile view, typically atop large communication towers several hundred feet tall. As the company collects data from the cameras, images that include private residences or businesses are pixelated for privacy.
The cameras can dramatically cut down the time it takes firefighters to figure out exactly where a fire is burning.
In addition to installing nearly 1,000 fire-safe fuses to its power network last year, PGE said it is also continuing an "Early Fault Detection" pilot project started in 2021 that placed sensors – gray metal boxes resembling a home's breaker panel – on utility poles to spot power-surge abnormalities that could cause ignition.
All of these efforts are to mitigate their last resort: public-safety power shutoffs, which is when extreme weather conditions make it impossible to safely run the power grid. Sixty-nine weather stations across the territory also collect data about wind speed, wind direction and relative humidity that could cause a need to shut off power.
In Sept. 2022, PGE had to perform public-safety power shutoffs in all 10 high-risk zones, affecting thousands of customers, when its crews noticed damage to equipment due to downed limbs and trees, which could've caused a wildfire.
©2023 Advance Local Media LLC.
Visit oregonlive.com.
Distributed by Tribune Content Agency, LLC.
McClatchy-Tribune News Service